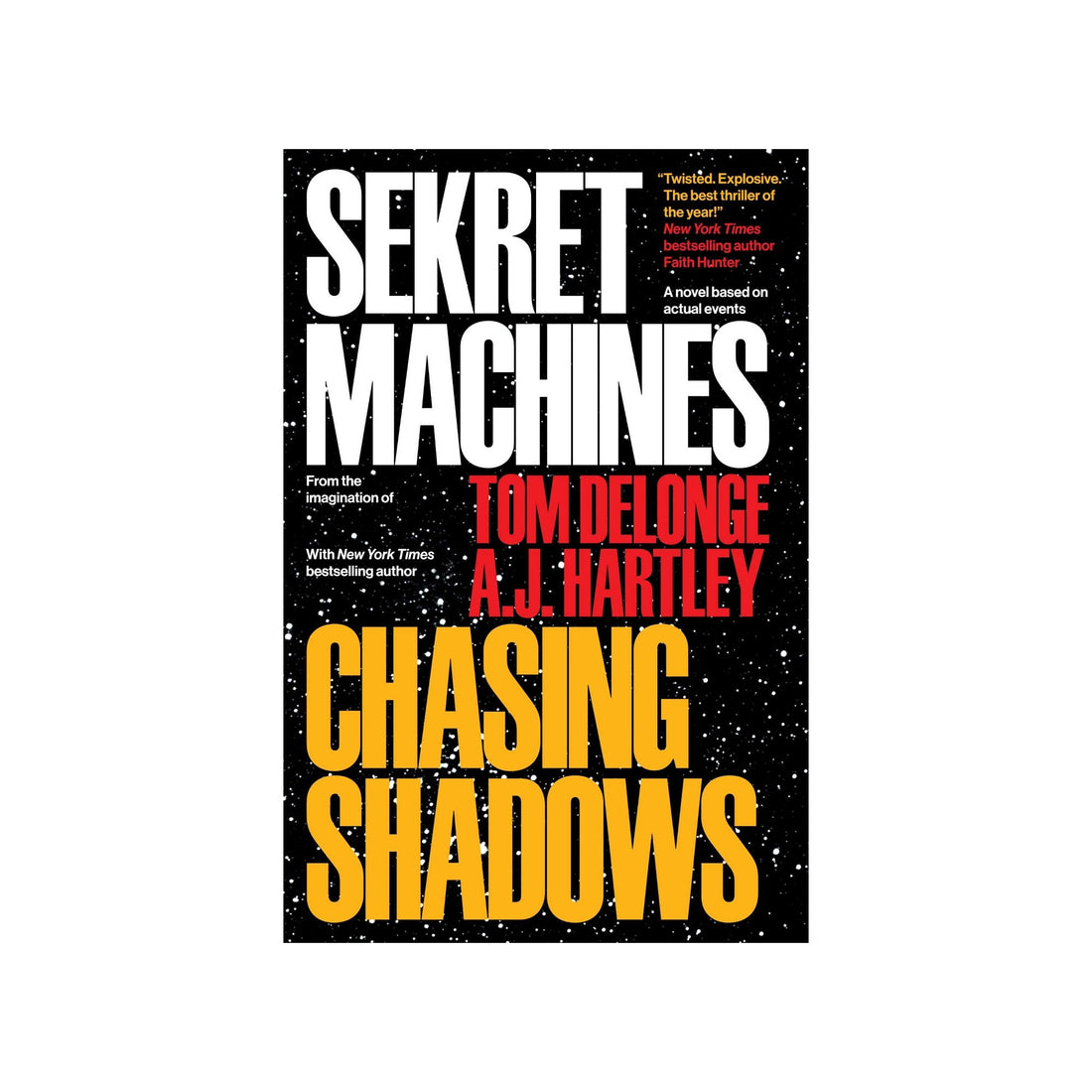 Chasing Shadows Paperback
Rp 247.000,00
Sale

• Save
Sekret Machines Chasing Shadows
Book Options:
• Paperback Edition: Paperback book

"Blurring the line of science fiction and fact, Sekret Machines is an explosive thriller that will make you question everything you've been told about what's really out there."  - Larry King

Written by Open Mind's 2017 UFO Researcher of the Year and acclaimed producer Tom DeLonge with NYTimes bestselling academic AJ Hartley in a powerful collaboration with top government officials that keep the truth on course while revealing fascinating secrets surrounding the true, well-documented events of Unidentified Aerial Phenomenon.

The 2017 trade paperback edition includes a foreword by Jim Semivan, a retired 25-year career veteran of the Central Intelligence Agency's National Clandestine Service.
For those who know…
                        that something is going on…
The witnesses are legion, scattered across the world and dotted through history, people who looked up and saw something impossible lighting up the night sky. What those objects were, where they came from, and who—or what—might be inside them is the subject of fierce debate and equally fierce mockery, so that most who glimpsed them came to wish they hadn't.
Most, but not everyone.  
Among those who know what they've seen, and—like the toll of a bell that can't be unrung—are forever changed by it, are a pilot, an heiress, a journalist, and a prisoner of war.  From the waning days of the 20thcentury's final great war to the fraught fields of Afghanistan to the otherworldly secrets hidden amid Nevada's dusty neverlands—the truth that is out there will propel each of them into a labyrinth of otherworldly technology and the competing aims of those who might seek to prevent—or harness—these beings of unfathomable power.  Because, as it turns out, we are not the only ones who can invent and build…and destroy.  
Featuring actual events and other truths drawn from sources within the military and intelligence community, Tom DeLonge and A.J. Hartley offer a tale at once terrifying, fantastical, and perhaps all too real. Though it is, of course, a work of…  fiction? 
FREE USA Shipping Over $100 on select items

Free 30 Day USA Returns on eligible items.

Flat Rate International Shipping to select countries on orders over $100 USD.